Sponsored by Northwest Connect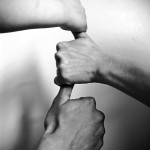 "Truly I tell you, whatever you did for one of the least of these brothers and sisters of mine, you did for me." Matthew 25:40
---
---
What is A Hand Up – Hillyard / Northwest Connect?
Northwest Connect is a 501(c)(3) non-profit organization created under Federal Tax codes. The purpose of Northwest Connect is stated in our mission statement:
"The mission of Northwest Connect is to demonstrate love and respect by serving our neighbors through opportunities which empower families to improve their quality of life."
The 99207 and 99217 zip codes are the poorest zip codes in Washington State.
"When state officials sought to identify the most vulnerable children in Washington, they began in Hillyard, on a dozen rough-and-tumble blocks in northeast Spokane."
http://www.spokesman.com/stories/2007/apr/08/before-its-too-late/
"As of 2007, Hillyard remains one of the poorest areas of the city.  The average house price is about half of the Spokane average.  For this reason, Hillyard continues to be attractive, as it was in the 1910s, to first-generation immigrant families.  The immigrants today are often Russian and Southeast Asian."
"Hillyard suffers some of the worst poverty in Spokane, per capita it is the poorest neighborhood in the state of Washington."
http://www.thefullwiki.org/Hillyard, Spokane, Washington